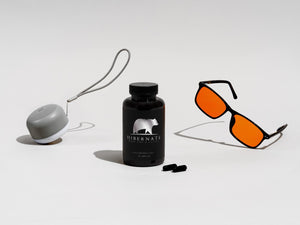 Tired of feeling...dragged down?
Ever felt like you're living half a life? Like things just aren't quite right? You're in shape. You're not sick. But still…you're tired, stressed, and wondering why things don't pop anymore? You see men around you getting after it, shifting gears. While you're left thinking…where did my energy go? If that sounds familiar, you're not alone -- it's the reason our founder spent YEARS searching for a solution. When he was young, he said: "I'll sleep when I'm dead." Then in his 30s the crash came hard, and he realized insomnia wasn't a personal quirk anymore. It wasn't something to brag about. It was killing him.
That realization saw him leave a prominent international consulting career, and set out on a quest to solve this problem that affected so many men he knew. Colleagues, friends from the gym, and most importantly - his own brother, who'd just hit his 30s and all of a sudden couldn't sleep anymore.
These two brothers consulted health industry specialists and ancestral sleep experts. They dove into thousands of hours of research. They ruthlessly tested on themselves an endless combination of vitamins, minerals, and natural neurotransmitter agonists. After two years, they beat insomnia. They cured it. They wrestled it down and banished it from their lives.
Thus, Hibernate was born - a simple, common sense, drug-free way of helping men get natural sleep and feel like legends again.
Nate and Jordan found through their own experience that healthy sleep is the great equalizer. It makes everything in life 10% better, like living on steroids. It gives you energy, drive, and the purpose to go out and achieve everything you want in life. Whatever motivates you - climbing mountains, getting a new job, protecting your family - it can't be done if you feel like a beat dog. Good health, good sleep…they make you feel like a man.

Our Mission
Hibernate exists to help you get the sleep you deserve, so you wake up recovered and ready to attack every day.
The Founders
Nate and Jordan prefer to remain out of the spotlight, and put it instead on you. They live in Central Virginia, one in Richmond, and the other in the rolling Blue Ridge mountains, and both use Hibernate every single night. They believe in their products because it changed their lives, and those of men all around them. Brothers. Training partners in the gym. Golf buddies. They've all discovered the energizing power of natural sleep. They've found new youth, new focus, new drive. And this makes Nate and Jordan's mission to transform your life stronger every day.
QUALITY

Our products are USA made in a Certified Good Manufacturing Practice (cGMP) facility.
NO DRUGS

We're committed to long-term healthy solutions that actually improve the quality of your life and don't cause side effects.
YOU

We genuinely care about our customers and we're here to serve. If you have questions at all, about sleep or anything health-related, we'd love to hear from you. 
Hibernate Helps Me Sleep . . . Period
Taking Hibernate has become a critical part of my nighttime sleep routine. I highly recommend it.
Great Sleep "Night and Day difference"
My first morning after using Hibernate was noticeably different. I felt energized, rested, and ready to tackle the day.
Falling asleep faster
Great product, great customer service, find myself not tossing and turning as much and falling asleep faster.
Noticeable difference in how I feel in the morning.
When I use hibernate, I feel ready for the day when I wake up. Much less likely to awake in the middle of the night, feel groggy, or hit the snooze button.
Highly recommended - I have taken it nearly daily for 3 months!
Great sleep!
I use Hibernate for sleeping with my busy work schedule. It helps me stay asleep at night and provides me with energy for my next days work.
Quality supplement and works as intended
Micro dosing melatonin is a sensible idea and the additional Magnesium, Vitamin D3 and Zinc complement the melatonin well for a relaxed, deep sleep.